This store requires javascript to be enabled for some features to work correctly.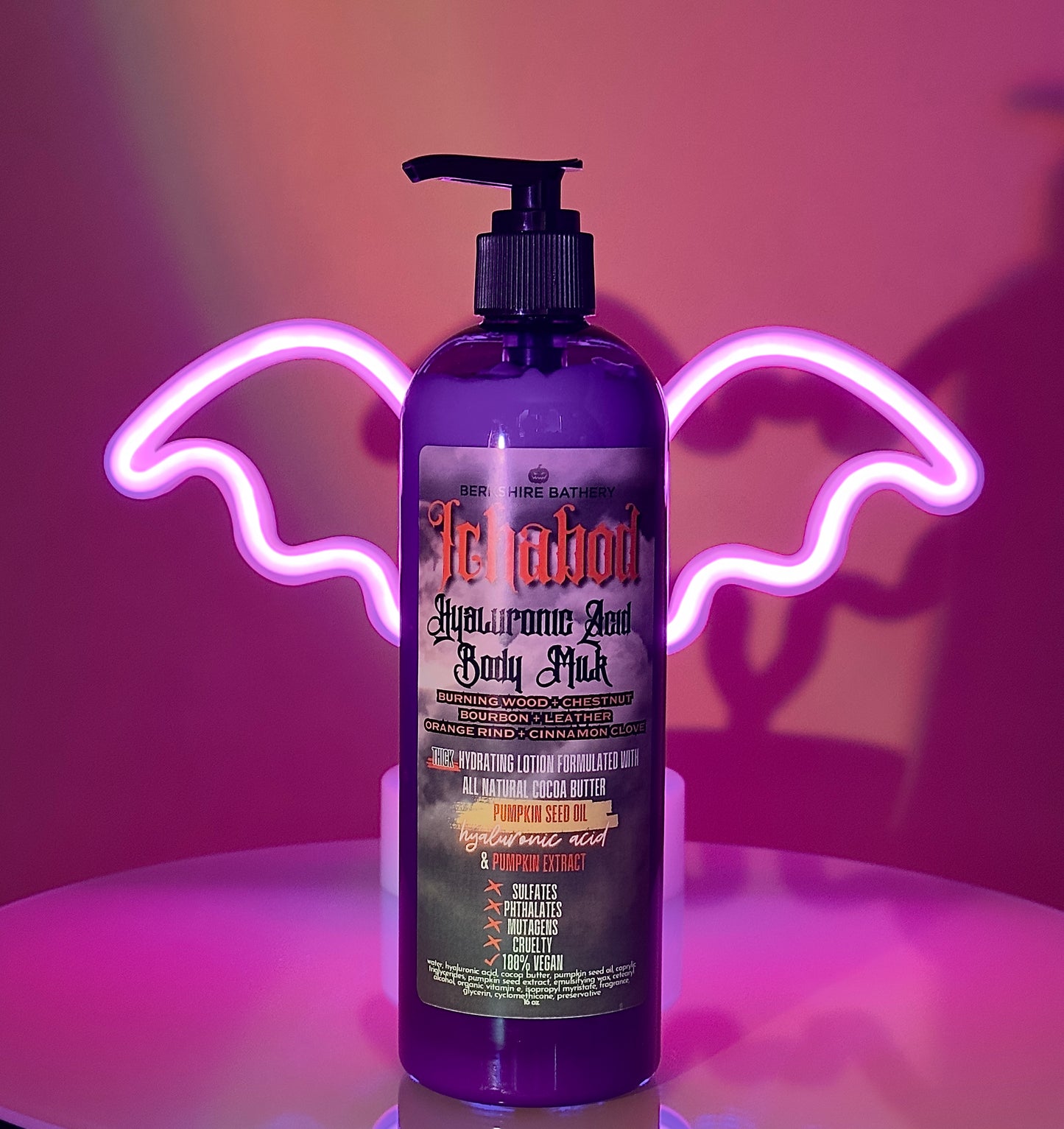 ICHABOD | HYALURONIC ACID BODY MILK
Say boo to dry skin and hello to the moisturizing magic of my handmade Hyaluronic Acid body lotion! This bewitchingly good lotion is infused with the enchanting powers of cocoa butter, hyaluronic acid, pumpkin seed oil, and pumpkin extract. With notes of smokey wood, orange rind, clove, and sweet spices, it's a scent that will make your skin scream with delight!
buy now
real products. real happy customers.
Testimonials
"Everything I've tried so far has been amazing (lip balms, cologne, body wash, lotion bar) from quality and smell! Plus the way everything is shipped safely and securely is such a nice touch. Do yourself a favor and buy some nice smelling things for others or yourself."

-Rachel Garmon

"Oh my gosh! This stuff is so dreamy! The package arrived quick, the scents are dreamy and romantic and the lip balm is OUT OF THIS WORLD! It's like the softest, smoothest stuff you can find. It felt like butter on my lips! I can't recommend it enough! I LOVE it!"

-Ashley T.

"I adore this shop and am so impressed with the quality of the products! I am absolutely in LOVE! And, as a cherry on top, Dane is such a kind, sweet woman whom I have had the pleasure to converse with I wholeheartedly recommend this shop and am 100% a lifelong customer!!!"

-Sarah Godfrey

"Just received my candles, body scrub & body wash! Absolutely LOVE THEM all. My house smells amazing! Thank you Berkshire Bathery for my order & can't wait to buy more!"

-Luz Camarena

"I would highly recommend Berkshire Bathery! I could tell from the way the shipping package was packed that it was packed with love. When I opened everything up, it looked and smelled wonderful! The candle I got (limited edition skull) is beautiful and the scent is amazing. The bath bombs, salts and lip balm are equally awesome. Do yourself a favor and order some products for yourself or as gifts."

-Nicole Devin

"When I was in college, our university library had a coffee shop. They had this mocha banana latte that was my favorite. I saw this and took a chance hoping it would smell similar. It smells exactly like I remember that latte smelling. The texture is phenomenal. The personal note made my day! My new favorite lip balm! (mocha banana) - obsessive collector of chapsticks"

-Michelle Bustos

"Facebook would need smell-o-vision capabilities for me to fully share how amazing these products are. The pictures show you the beauty of the design and exquisite presentation, but the overall quality is a mixture of the appearance, fragrance, and natural ingredients used to make these bath bombs. lip balms, and body wash. I have extremely sensitive skin, which makes me hesitant to try anything new, especially product with fragrance, but since these only include the highest quality, natural ingredients, I can use them without any fear. In addition, the owner is a fabulously talented woman, Dane Berkshire, who started her small business when her career was affected by the pandemic. 
Thank you, Berkshire Bathery for my order today."

-Maurya Buchanan

"This is my supply of Berkshire Bathery products, it's almost overflowing, yet I am constantly nervous about running out. All of these products are made to leave you relaxed, with skin as soft as a baby, and smelling amazing! And boy do they deliver! Love, love, LOVE these products!"

-Gidget White

"I can't get enough! The Solid cologne is so addicting!! The Humidor lotion brought back childhood memories. Thank you so much for your creative brain and entrepreneurship. Everything smells amazingly complex, sophisticated, and relaxing. Might I add, your packaging is superb."

-Monte Livingston